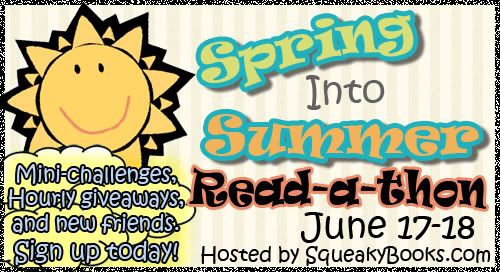 This post is to announce to the world that I'm participating in the Spring into Summer read-a-thon hosted by Enna Isilee of
Squeaky Books
!
This read-a-thon is going to be so great! It's two days where you try do NOTHING but read. It's a great chance to get rid of some of those books that have been sitting on your TBR pile
forever
.
But that's not all! There will also be awesome mini-challenges and a TON of giveaways! In fact, just for signing up you are entered to win a $25 gift card to Amazon! SO
GO SIGN UP
! And if you say that
Alyssa @ Mostly Books.... Occasional Rants....
sent you, you'll get 5 extra entries to win that gift card!
CLICK HERE
to enter to win, and know all there is to know about the read-a-thon.
Here's my goal:
I plan to participate on:
For a while on BOTH DAYS, unfortunately I will need to sleep and go to work for a bit. :-(
I plan to read:
At least 1 book. Would love to do more.
I hope to read:
1st: I'm going to finish Magic Bites by Ilona Andrews if I haven't already.
2nd: I'll read Goddess Boot Camp (Unless I can get Magic Burns from the library).
3rd: The plan is to start reading The Wolf Next Door by Lydia Dare. (Don't know if I'll get this far.)
Also, I might break up my book reading with some manga reading. I have mangas 1-5 of xxxHolic.
Another also, I might re-read Harry Potter and the Deathly Hallows by J.K. Rowling, since I want to before the final movie comes out.
Who knows..... The whole thing could start, and I could just end up chucking this pretty little plan out the window..... Hope not.... Gah.... I have just a few too many books vying for my attention....
Well, have you signed up yet? DO IT NOW!